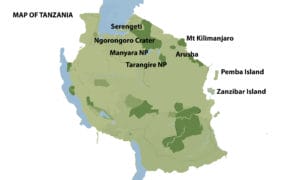 Tanzania is an East African country known for its vast wilderness areas. A large central plateau makes up most of the mainland, at between 900 m and 1800 m. The mountain ranges of the Eastern Arc and the Southern and Northern Highlands cut across the country to form part of the Great Rift Valley.
They include the plains of Serengeti National Park which is located in the Northern Part of Tanzania, and it's boarded by three regions which are Mara, Simiyu and Arusha. Serengeti is the oldest Park in Tanzania and well known worldwide especially for being a heart of the only great wildebeest migration remained in the World to date. It is also forming a heart of Serengeti Mara Ecosystem that includes Ngorongoro Conservation Area, Loliondo Game Controlled, Maasai Mara National Reserve, Ikorongo Game Reserve, Grumet Game Reserve, Kijereshi Game Reserve and Maswa Game Reserve.
The other Parks in Tanzania are the Tarangire National Park, a safari mecca populated by the "big five" game (elephant, lion, leopard, buffalo, rhino), and Kilimanjaro National Park, home to Africa's highest mountain.
One can also experience a magical beach holiday in Zanzibar on the coast or partake in one of the many agricultural farm tours on offer at a coffee plantation around Arusha.
Book your safari, beach holiday or Tanzania farm tour through us at ZAMAG TOURS AND SAFARIS