Zambia, in southern Africa, is a landlocked country of rugged terrain and diverse wildlife.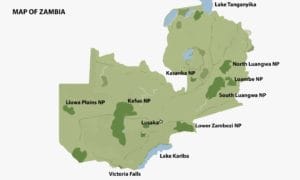 Blessed with awe-inspiring natural wonders, an abundance of wildlife, huge water bodies and vast open spaces, Zambia offers unforgettable holidays exploring the real Africa. Acknowledged as one of the safest countries in the world to visit, Zambia's welcoming people live in peace and harmony. And here, in the warm heart of Africa, you will find some of the finest Safari experiences on the planet, including face to face encounters with Nature at its wildest.
The country has a variety of National Parks all offering exciting and diverse safari experiences - Lower Zambezi National Park, Luambe National Park, North and South Luangwa National Parks, Mosi O Tunya National Park and Kafue National Park to name a few. Spectacular waterways provide adrenaline-thrills or a leisurely playground of activities for all ages. Seventeen magnificent waterfalls, apart from the spectacular Victoria Falls, provide 'cascade followers' an adventure into the remote undeveloped rural areas where a taste of village life can be experienced. Spectacular daily sunsets are almost guaranteed.
ZAMAG Tours and Safaris not only offer magnificent safari experiences but are also the agricultural tours expert ground handlers in Zambia, with decades of farming knowledge and experience.
Let us tailor make an unforgettable safari and/or agricultural farm tour for you in Zambia.  Book through us at ZAMAG TOURS AND SAFARIS.