We are delighted to have been given the Green Light now for clients overseas to come and visit Zambia, Zimbabwe and Botswana and its great to have overseas visitors back on safari.
SOUTH LUANGWA NATIONAL PARK - ZAMBIA
I was fortunate enough to recently spend five glorious days in South Luangwa National Park with friends.  It is definitely one of my favourite Parks in Africa as it never disappoints.  It doesn't matter what time of year you visit, there is always something different to see or experience. This trip was particularly excellent with the carmine bee-eaters being around in mass; loads of leopard, lion and great sightings of wild dogs.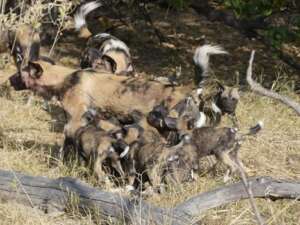 SAFARI IN BOTSWANA
Some of the Zamag Team, clients and friends recently joined me on various trips to Botswana.  I was incredibly fortunate to have a fabulous 3-week trip.
Cresta Mowana Lodge - Chobe
Cresta Mowana Lodge was our first port of call which is a great lodge built on the banks of the Chobe River.  It's now under the new Management and expertise of the well-known Carol White, whom many would know from Victoria falls Hotel and Meikles Hotels in Zimbabwe.  The lodge has a great location on the Chobe River and not far from the Chobe National Park and we had a great sunset cruise on the river seeing plenty of game and birdlife.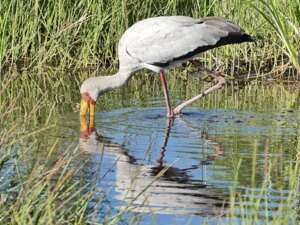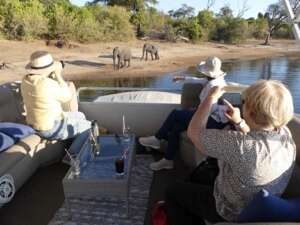 Jacana Camp  - Okavango Delta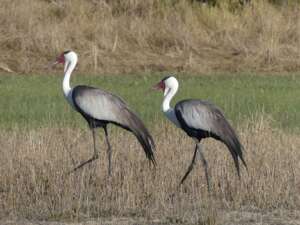 We headed off to Jacana Camp run by Wilderness Safaris and situated in the Jao Concession within the Okavango Delta. A small, intimate camp built on an island, and during height of the floods, is completely surrounded by water.  This is an excellent camp for water activities such as makoro rides and boating. The birding was great and we were fortunate to see the elusive Sitatunga on one of our boat cruises.  Game drives are seasonal and only take place around the Jao concession.
Chitabe and Chitabe Ledibe Safari Camps - Okavango Delta
I had the pleasure of being with two groups at these two fabulous camps – Chitabe Camp and Chitabe Ledibe.  They are both located within the Chitabe concession in the South East of the Okavango, bordering the Moremi National Park. These two camps have to be the best run camps I have experienced in 30 years of running safaris and guiding clients.   The hospitality, food and accommodation were all excellent.
Their teams of staff were fantastic and nothing was too much trouble. Game viewing in this area, is like game viewing on Steroids. Predator sightings are incredible. On both trips I felt as though I was on a National Geographic experience with plenty of lion, cheetah, leopard, wild dogs at their den and hyena. We were also guided by OD and Phinlea, and with their incredible knowledge, it made both trips very special.  Both camps are at the top of our list, and we look forward to going back.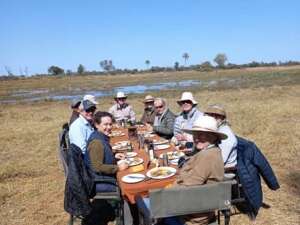 "The Zamag Team and friends having breakfast in the Bush at Chitabe"
San Camp – Makgadikgadi
What a treat this camp was to visit.   It was like staying in a camp from a by gone era with an Arabian Nights feel.  It has a white billowing Mess Tent and seven white luxurious tents which are built on the edge of Nwetwe pan which is part of the Makgadikgadi Salt Pans. The Makgadikgadi Salt Pans are south East of the Okavango Delta and are one of the biggest salt pans in the world. Today they stretch over 12,000 km sq.   The formation of the salt pans started with the evaporation of a huge inland lake. When the salt pans are dry,  it looks like a lunar landscape, giving you a feeling of remoteness and solitude. There are miles and miles of white, shimmering crusty earth as far as you can see in central Botswana which once covered the area for 60,000 km sq. As the result of the movement of tectonic plates which cut off the rivers that once fed the lakes, they dried up but fill during the rains attracting thousands of flamingos. On the fringes of the pans are grassy plains and during the rains this attracts the second biggest Zebra migration next to the Serengeti. Up to 20,000 Zebra can be seen grazing the plains in this area.  It is also home to Wildebeest, oryx, impala, springbok, meerkats, brown hyena and ground squirrels. We had a great time riding quad bikes on the pans and slept out under the stars.  Another highlight of the trip was visiting a semi habituated meerkat colony who used us as look out posts to see if any predators were in the area. Walking with the bushmen is also recommended, learning about their customs and culture.   Add this camp and a visit to the Makgadikgadi to your bucket list!!!
DAPHNE LINDSAY
MANAGING DIRECTOR
A few photos of our amazing trip..