Last month, ZAMAG TOURS AND SAFARIS had the wonderful opportunity of visiting a few camps in the Kafue National Park with a few of our clients.
KAINGU SAFARI LODGE - KAFUE NATIONAL PARK - ZAMBIA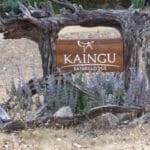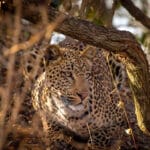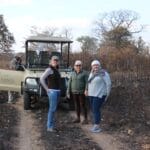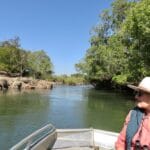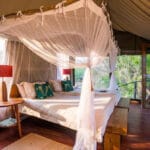 Our journey took us from Lusaka to Hook Bridge which was a nice leisurely drive on the Mumbwa Road. We were met by the Kaingu Safari guides who took us by boat downstream to Kaingu Camp. Kaingu is situated on the banks of the Kafue River and each tent is perfectly placed with magnificent views of the river.
The sound of rapids can be heard from the lodge and we were lucky to see an elephant crossing from one side to the other during our boat ride into camp. We had a wonderful stay at Kaingu with excellent food and great hospitality from the management and staff. We went on game drives, a walking safari and a boat cruise and a few of us tried our hand at some fishing.
The camp is perfect for visitors wanting to have a river and bush experience and it has a great personal touch.
MUSEKESE CAMP - KAFUE NATIONAL PARK - ZAMBIA
We set off after breakfast and drove to Musekese Camp which is situated in the Kafue National Park, not far from the Kafue River overlooking an open lagoon where elephant, hippo puku and incredible birdlife all congregate. In the wet season the lagoon meets up with the river but in the dry season, pools are formed where hippo wallow and animals come out to drink.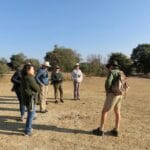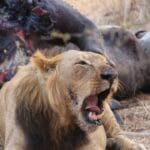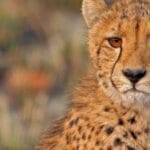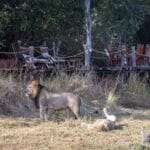 The large and spacious tents are slightly raised off the ground and all have magnificent views of the lagoon infront of the camp. Each tent is en suite and are designed so that guests can get a true feeling of being one with nature.
Tyrone McKeith and Philip Jeffery are the owners and founders of Musekese Camp and their twin camp in Busanga Plains, Ntemwa Busanga. Their knowledge and passion for the bush is second to none as well as their amazing dedication to the conservation of the Kafue National Park. Our team had the great opportunity of going on a walking safari led by Tyrone, where we could get close up with nature and all it has to offer.
Game drives were another of the activities that we had the pleasure of doing and were very lucky to come across two male lion (brothers) who were feasting on a hippo carcass. The one lion had an injured back foot after he had been caught in a snare, but that did not stop him from gorging on their prize catch.
ILA SAFARI LODGE - KAFUE NATIONAL PARK - ZAMBIA
From Musekese we drove to Ila Safari Lodge which is located close to Hook Bridge on the Kafue River. This elegant lodge has beautiful spacious tents all with their own private deck overlooking the river. Each tent has an en-suite bathroom with a big bath, twin basin and shower.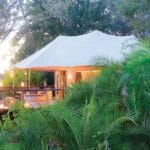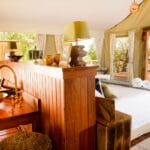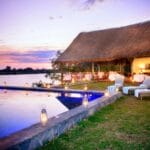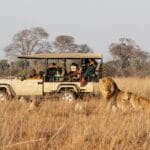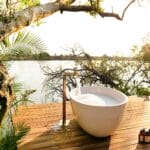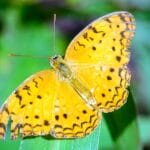 The main living area of the lodge is very spacious and has a large infinity pool located in the centre of the large horseshoe shaped veranda. The dining area on one side and bar and fire pit area on the other.
We went on an afternoon game drive where we experienced a male leopard chasing a female leopard up a tree which was all rather exhilarating. En route to our sundowner spot we came across a few trees laden with vultures and two hyena below. One can assume that there must have been a lion kill very close by. Unfortunately we didn't get to see it.
We had a lovely evening sitting around the fire followed by a delicious dinner. Great hospitality and excellent food.
LISA MACLEAN
TOURS MANAGER